Even in winter you can indulge in feminine or even sexy openwork patterns! Knitted from cozy wool and in a great color gradient from Chiemsee yarn, they look great at Christmas parties and meetings with friends. You choose how much skin you want to show for which occasion. Openwork patterns fit perfectly into the season of festive occasions.
What are openwork patterns? They are lace patterns that simply consist of the interplay of yarn overs, stitches knitted together and stitches knitted out again. This is how magical, artistic works are created. Often they cast intertwined leaves or flowers.
Turtleneck jumper with a holey cable pattern
This sweater is a real eye-catcher and looks wonderfully slim and feminine, even though it is a turtleneck. The gag is the extremely long cuffs and the really spectacular pattern, which leaves a lot of air, but also offers great large-format braids. A real challenge for experienced knitters! There are no instructions, but you can of course knit such a piece! Just dare, you can still unpick it!
First of all, you have to keep the sweater quite short and slim to make it look so chic. The cuffs are about 1-14 cm high, also on the sleeves. The wool is relatively coarse and the rib knit pattern is unusually wide. There are about 6 knit and purl stitches alternating.
The cable pattern is also quite unusual. You can find a similar one here:
Instructions for holey cable pattern: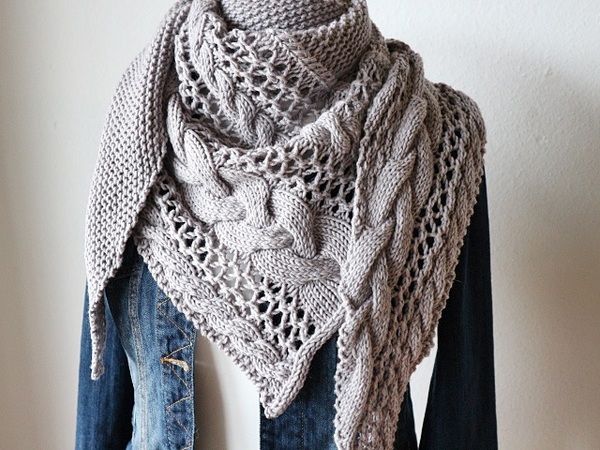 Youtube tutorial video of a similar pattern:
As you can see, the braids on this jumper intertwine artfully and new braids emerge from the side of the braids. It looks great, but it's also a bit risky. Because when you wear it, you can easily pull threads at the holes with holes and the great sweater may then fall apart. So it's better to choose a cable pattern that doesn't have quite as many holes! Washing and drying must also be done very carefully.
Cosy winter pullover in a delicate openwork pattern
Wintery soft - it goes well with the holidays or every day in the office. This Ajourpullover It has a classic pattern, but gets its modern touch through its wide neckline with a wide ribbed knit. The pattern requires some practice and, most importantly, attention when knitting. The hemline is loose, which makes the sweater look particularly light and contemporary. You can knit this piece wonderfully with Chiemsee yarn.
Wonderful pattern for special knitting fun
Experienced knitters always need new patterns that really challenge them. We have found something very special for you! This sweater contains really difficult patterns and is just a dream when finished. It fits all year round. Its complex structural pattern has a wonderfully three-dimensional effect, which is why the fine Chiemsee yarn is just right for it. Knitted in thick wool, it would look too bulky.
Ajour poncho for the whole season
This piece can also be worn all year round. Choose warmer wool for winter and lighter wool for summer.
In terms of cut, the fashionable poncho is very easy to knit and yet looks great when worn. It's just two rectangles sewn together. The challenge is of course the openwork pattern, which looks very effective when knitted sideways. By the way: ponchos really flatter the figure and are something in between a jacket and a pullover.Wear it with narrow pants or skirts and preferably boots
Image plus instructions:
Stole in ajour pattern
This stole looks very effective in the evening with a chic dress or an elegant top. The large-format hole pattern makes it look very delicate, but warms you up nicely when you wrap the stole properly around your neck. If you want to show off the beautiful pattern, just put it around your shoulders. The knitted fabric, as delicate as a shawl, also keeps its shape so beautifully because the edge is crocheted. The pattern looks even better with the gradient wool from Chiemseegarn!
.