Knitting a triangular scarf - everything you really need to know!
The triangular scarf is the perfect companion for autumn. At this time of the year it often cools down quickly late at night and the wind or cold can disrupt a cozy evening on the terrace or a walk together. Our necks in particular cool down very quickly and are sensitive to cold air. If that's not reason enough to try knitting a triangular shawl!
But anyone who thinks that a knitted scarf is only for cold days is wrong. A triangular scarf in particular is great for knitting with gradient yarns and not only keeps you warm and cozy at any time of the year, but is also a great accessory, whether worn around the neck or loosely slung over the shoulder.
For whom is a triangular scarf suitable?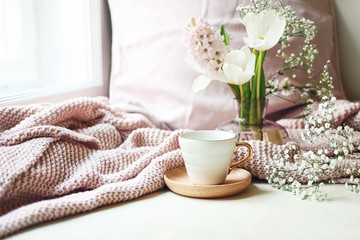 Knitting a triangular shawl is not difficult and therefore also ideal for knitting beginners. We accompany you here on your way to the first triangular scarf with a knitted look. We will briefly explain the most important basics and provide you with free knitting instructions.
Knitting triangular scarves with gradient yarn is so diverse and varied that both professionals and beginners have fun with it. So, what are you waiting for? Find a bobble yarn to knit a triangular shawl. The best thing to do is to choose your favorite Bobbel from Chiemseegarn and get started right away!
What do I need for a triangular shawl?
Since even a simple triangular shawl can be worn all year round, you have to think carefully about how the shawl will be used before knitting. If you now want to knit your triangular shawl and work with gradient yarn according to the instructions, you should pay attention to a few things:
The stitch test

The needles

The Wool

The technique
The stitch test
Most of the more complex knitting instructions contain information about the so-called stitch gauge. But what is a swatch and what do I need it for? Beginners often ask this question.
It reads something like this:
Stocking stitch with 6 mm needles: 16 stitches and 24 rows = 10 x 10 cm.
Simply put, this means that you knit 16 stitches in width and 24 rows in height with your Bobbel yarn and a 6 mm needle. Here you should knit stocking stitch , i.e. alternately cast on a row of knit stitches and a row of purl stitches.
You should end up with a 10 cm square. Even if a stitch sample is specified on the banderole of the wool, it is advisable to carry out the sample yourself. It is quick to knit and extremely helpful. Because each of us knits differently, some tighter or looser than indicated.
The needles
The needle size is important for the success of the work according to a knitting instruction. However, the specified needle size in the instructions or banderole is only intended as a guide. This is where the swatch comes into play again.
If your knitting sample deviates by a few stitches, repeat the whole thing with a different needle size. If you are missing 1-2 stitches, you can use a 5.5 mm needle instead of the indicated 6 mm needle. On the other hand, if you have 1-2 stitches too many, try a 6.5 mm needle. Feel free to try vdifferent needle forcesstrengthen to get a perfect result.
The Wool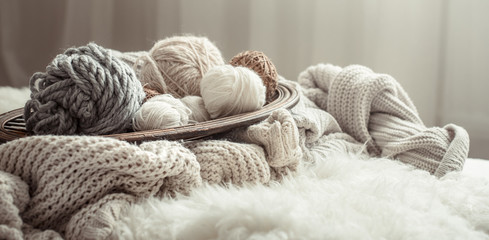 We knit our triangular scarves with gradient yarn. They can be customized not only in terms of pattern, but also in terms of color.For unique color combinations you can use our gradient configurationor If you want to knit a shawl for a specific occasion or a specific season, you should consider a few things when choosing the yarn:    
Warm wool blends made from animal hair are particularly suitable for the cool season. These include merino wool or new wool from alpaca. These types of wool nestle particularly well against our skin and keep us warm without itching.

In summer or spring, wool with a proportion of cotton fibers is recommended. Although this fiber leaves a pleasant coolness on the skin, it still protects against a cold breeze.
The technique
When knitting according to the instructions, you should already have some basic knowledge, despite the precise specifications. If you want to knit your own triangular shawl, gradient yarns and YouTube are your perfect companions. On our YouTube Kanal you will find the instructions you need to get the basics for a simple triangular scarf.
Our guide to the perfect triangular shawl
Now enough theory. If you want to knit a simple triangular shawl, there are free pdf instructions on many websites such as crazypatterns or Pinterest to find. Please note that not every free pattern is also suitable for a gradient yarn. You can read herer about what you should consider when making your selection.
Instructions for a triangular shawl
We knit the following triangular shawl with gradient yarn according to the free instructions. We offer a simple guide that's perfect for beginners. If you follow these instructions, you will get the following lace pattern in the middle of the triangular shawl.
Material
The information refers to the 3-ply Bobbel wool from Chiemseegarn. As this shawl is knitted from the tip to the width, you can use more or less wool or even a 4- to 8-ply bobble, depending on personal preference. In this way, individual mesh sizes and cloth widths can be created. So you don't have to do a gauge sample for this model. Needle size and thread length should be adjusted at will.
Circular knitting needles 4 mm, length 80 cm
approx. 1000-1200 m Bobbel yarn with color gradient
Knitting Instructions
The shawl is knitted in garter stitch and additional yarn overs are worked in every 2nd row. For a yarn over, the thread is laid over the working needle from front to back. After the last stitch in the row, the work is turned. In the next row the yarn overs are knitted normally.
Start:

Cast on 7 stitches

1. Row:

Knit all stitches (= 7 stitches)

2. Row:

knit 1, 4x(

knit 1, 1 yarn over

), knit 2 (= 11 stitches).

3. Row:

Knit all stitches including yarn overs

4. Row:

Make a yarn over after the first two knit stitches, before and after the middle stitch and before the last two knit stitches (= 15 stitches)

5. Row

: Knit all stitches including yarn overs

Middle part:

4th and 5thKnit alternate rows and you get this simple pattern

End:

Bind off the stitches when the end of the bobble is reached

Sew the protruding threads with a wool needle
If you've always wanted to knit a triangular shawl and work with gradient yarn according to the instructions, you could get the inspiration you need here Now there are no more excuses! You have all the information you need to dare to knit your first shawl.

If the prospect of a beautiful, individual scarf isn't motivation enough, you might find here the necessary incentive to start knitting.
.